Unleash The Beast: Mississippi's Best Kept Secret
Mississippi is known for its football stars. The state has produced over 600 plus National Football players and countless amounts of collegiate athletes; football in the Deep South is not just a game but a way of life. Cordarrius Bailey, is 6 foot 4, 215 pound very aggressive football player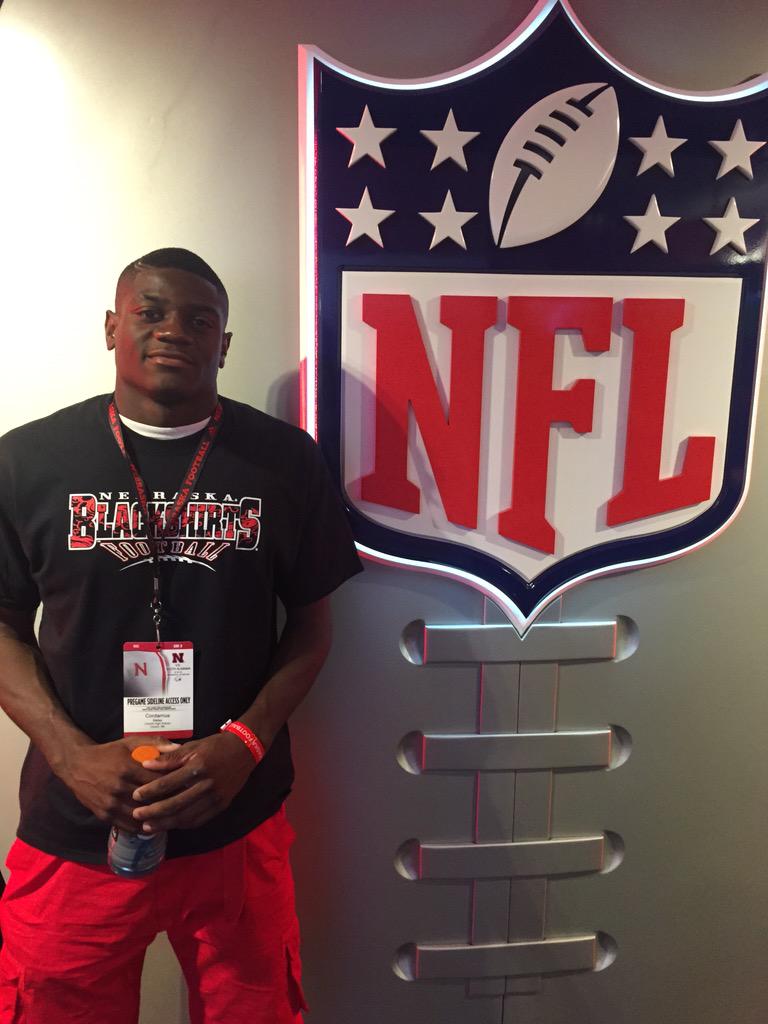 with a high motor whose single purpose is to "get to the ball, that's all that matters." He is a Defensive End that can play inside and outside. He is also smart and athletic enough to play all three levels on defense if coached up correctly.
Since he was 7 years old Cordarrius has had a passion for this game. It was introduced to him by his Father Columbus Palmer. Columbus was a star of his own in Mississippi. As a middle linebacker he had scholarship offers from schools all across the country. Now it's Cordarrius that has five offers and has garnered interest from Nebraska, Kansas State and he has been contacted by Alabama.
While playing for Lincoln High School in Nebraska, Cordarrius made All-City, League and State as a junior and his relentless approach to the game left his head coach Mark Macke with nothing but high praise for Cordarrius. Telling the Lincoln Journal Star "It's scary how good he can be. He goes hard all the time, he's all effort. He is very skilled and with his speed and agility, he can get by people. And his arms are so long he can get extension and then get by you. He just gets in there and pounds away at people. As he gets even stronger, he will be even more of a force."
After his junior season, his family decided to move back to their home state of Mississippi and Cordarrius was excited to comeback as a leader and to finally play for Clarksdale High School. "As a kid I always wanted to be a Wild Cat." Coming from humble beginnings Cordarrius is surrounded by a wonderful family whose foundation starts with their faith in God; hard work and dedication is the reason why he's been able to maintain his integrity and character while becoming one of Mississippi's raising stars.
1. What does Football mean to you?
I love football about as much as I love my mom; it means the world to me.
2. How much do you love your mom?
Sir, I will die for her!
3. What are the five most important things in your life?
God, Education, family, Respect and Discipline
4. What Scholarship offers do you have at this time?
Iowa State, Jackson State, Louisville, Alcorn State and Southern Mississippi
5. Coach L.D. Scott is one of the top recruiters on the staff at Louisville, what were his thoughts about you going to Louisville?
He said "we need pass rushers and I would be a great fit for their scheme".
6. Is playing your home state of Mississippi key in your recruiting process?
No sir, not at all. I'm looking for the right fit for me!
7. Does it matter where you play on the D-Line and can you play in multiple fronts?
It really does not matter to me, 3-4, 4-3, 5-front where ever the ball goes I'm go!
8. Have you always played football with this level of aggression?
No Sir.
9. What changed?
It all started in 7th grade at Oak Hurst Middle School in Mississippi. When I didn't start and Coach Gipson said I wasn't good enough to be first string. That's what made me want to be first in everything I do!
10. Was Coach Gipson assessment correct about your ability?
Tell you the truth, I was real skinny back then and if you're skinny they don't think you're physical or tough, so I've been on a mission to never have anyone question my toughness!
11. What your Height and weight?
6 foot 4 Inches and 215 pounds and my goal is to get to 230 pounds before the season starts.
12. You're a versatile football player are you set on playing defensive end or outside-linebacker?
Sir, not at all. Tell you the truth they can put me anywhere and I will learn it! Safety, Outside-linebacker, Middle backer, Corner. I will play anywhere!
13. Everyone uses the phrase grind, even you Cordarrius. What is your definition of grinding?
Doing things that others are scared to do after a workout.
14. Why should any university recruit you?
Because no one has ever gave me anything. I've had to earn everything I have received and college is a place where hard work, perseverance and the ability to adapt and find success is welcomed. These things and my relationship with the Lord is what has taken me this far and hopefully beyond. I'm excited about going to college and playing football. Academically I am giving it all I got and I do my best to be the best on and off the field.
15. What are you looking for in a University?
Sir, I want to own my own bank one day. Why? It's been a goal of mine since I was a young kid. So, I am looking for a University that has a great business and economics programs and relationships in the banking industry that will allow me to reach my goal after football along with preparing me to one day play in the League.
16. Why did you move to Nebraska after you junior season?
Sir that was my mom's decision. We were in Nebraska already and my mom want to move back home to Mississippi.
17. What is the difference between high school football in Nebraska versus Mississippi?
In Nebraska they lift a lot, so I had to adapt to lifting weights a lot. In Mississippi the athletes are faster so it took some getting used to but was huge benefit for me once I embraced grinding in the weight room.
18. Is there any significance with the Jersey #8?
When I was in Nebraska I wanted the number one but they gave me eight. So, I made that number work for me. I started hitting people hard and making plays so they called me "Crazy 8". It stuck so that's what I going with again this year.
19. In Nebraska at Lincoln High School you finished with a 4-5 record. What has losing taught you?
Well, when I was a sophomore we experienced losing at its highest. We were getting our butts whooped and it was tough on me and my teammates. So, I decided in the offseason to get bigger, faster and stronger so I can make stuff happen on the field that would keep us from losing.
20. Why did you choose Clarksdale High in Mississippi?
As a kid I always wanted to be Wildcat and now that God has given me a chance I am a wildcat. And another reason is I always looked up to my favorite wildcat as a kid Jordan Harris (Linebacker at Iowa State)
I'm happy the lil homie @baileydatruth8 moved back to Clarksdale to finish his highschool career!! 👌🏽👌🏽💯

— Jordan Harris #2 (@Jordan2_iam) January 12, 2016
21. Evaluate your own game. What do you need to work on this off-season? I need to get stronger and faster. My footwork has to get better and my hand fighting has to improve tremendously so I can get to the Quarterback faster.
22. What is you mindset going into every game?
I blackout and focus on the ball. The ball is the only thing that matters me!
23. What are some of your goals when playing football?
Sir, to be number one in everything I do. Why? Because second place is not remembered!
24. Do you play offense at all?
Yes, Coach Johnson the Head Coach at Clarksdale high school said I will play some Tight End as well this year.
25. who's your favorite NFL player?
JJ Wyatt. Why? He had 5 sacks in one game, who does that?
26. If there was one thing you could do that Cam Newton does what would it be?
His generosity towards everyone, he always does anything he can do to be a blessing to other people. I want to do that as well.
27. Do you listen to Hip-Hip at all?
Not really. What, you're kidding me? I only listen to one song. (As I laughed,) You're kidding me Cordarrius; are you pulling my leg? No sir, I am not pulling your leg. Okay, what do you listen to before games? A song called "All the way turned up".
28. Okay, what do you listen to after the game?
The same song sir. Why that song Cordarrius? Because I don't wanna turn down!!!
29. (Still laughing at his last answer) I love your answer Cordarrius. Why don't you want to turn down?
Second place sir, second place turns down. So, that experience in the 7th grade really triggered something in you? Yes Sir, it really did and I haven't been the same since.
30. I heard you have a job as well?
Yes sir, I work at burger King. What's life teaching you at Burger King? It's teaching me how to be a man. How to manage my time while playing football and my academics while preparing me for college so my transition won't be as hard. I don't like working here but like I said it's teaching me how to be a man and do things you don't want to do to reach a higher goal.
Comments
comments